Hi, welcome to my world of toons and stuff. For enquiries, or even for art lessons, you may contact me at picallo(@)singnet.com.sg... Meanwhile, hope you'll enjoy my art. And don't forget to check out all 2 pages and click on the links below to find out more about my work and view more of my creations, or even visit my other websites for more interesting stuff! :) --PETER LOH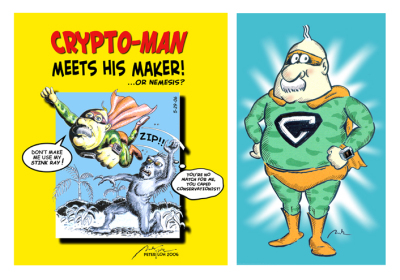 Super-hero in super-tight tights!!
Comic strip for Pangea Institute, Florida, USA. Also check out Crypto-Man merchandise at www.crypto-man.com! Click on the link below...